Interactive Floorplan (IFP) with Furniture Planner Virtual Move-In Solution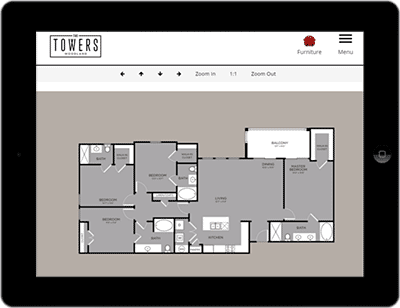 Easy IFP was the first Interactive Floorplan to be compatible with Android, iOS and other mobile web browsers.
Easy IFP has a simple interface with load / save / print and social media sharing. It doesn't use flash and it's highly customizable.
For Apartment Communities: Our furniture planner option allows prospective tenants to design and share their living spaces!
For Homebuilders: Easy IFP allows your sales team to show prospects all options available on each of your homes! Additional features such as selecting an elevation, printing out a brochure, clickable photo hotspots and a fun furniture planner make this a great sales tool.
Try It!
The interactive floorplan demo below features photo hotspots, many options, multiple floors and is responsive. Try it in a larger window
Demo shown above features standard design with default colors. Clients can customize interface and furniture colors.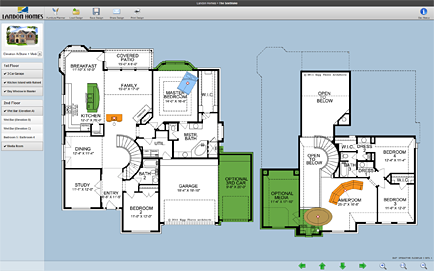 Standard Features:
HTML5 / jQuery -- Web standards - no plugins!
Touch Interface -- Includes pinch-to-zoom and touch dragging.
Responsive Design -- Fits to any width / height -- from tablets to phones with touch friendly menus.
Furniture Planner -- Over 60 Different Furniture Pieces
Image Hotspots -- Embed Photographs and Virtual Tours
Video Hotspots -- Embed Videos from YouTube
Matterport Hotspots -- Embed 3D Matterport Tours
Personalize -- Add your Company Logo, Colors and Column Width
Integration -- Embed in Your Website or Pop-Up Window
Load / Save Interactive Floorplans with E-mail Notification
Print Plan with Preview Window and 3 Page Print Out Format
Download Save your design as an image file!
Plan Dropdown -- Quickly access other floorplans
Social Media Sharing Share your designs on Facebook, Twitter and Google+
Interactive Floorplan Features:
Elevations -- Show elevation options with pop-up images
Custom SQFT Calculator - Shows SQFT as options are added/removed
Conditional Hotspots - Hide/Show Photo Hotspots linked to specific options.
Option Groups - Color-Coded groups to designate a single choice with multiple options.
Option Links - Some options only work when they work together!
Option Disable - Some options do not work together! Turning on one option will disable other options.
Option Shift - Some builders offer extensions to their homes. Options such as patios, wet bars, fireplaces, etc, will shift also.
Option Priority - Some options will need to always be on top of others.
Option Logic - Click an option that adds an option that removes an option that removes another option? No problem!
Pricing
One-Time Setup Fee - $195 (Custom Theme + Setup)
Furniture Planner Only - $50 per Apartment / Home
Interactive Floorplans - Single Story Home - $75 *
Interactive Floorplans - Two Story Home - $95*
Additional Features
Floorplan Creation - $50/Floor
(Conversion of Raster, 3D or other provided plans to Vector)
Additional Options - $3/ea.
Photo Hotspots - $1/ea
Floorplan Coloring - $5/ea
---
* Interactive Floorplans include up to 16 options. Additional options available at pricing above.
Our Clients
How Does it Work?
We provide a hosted-solution that you can embed in your website using an IFRAME, or a pop-up window -- like Vimeo, YouTube, or any 3rd party web-app. We provide you a link to each plan that you order.
ChangeLog
v3.6 - 20170112 - In BETA - Furniture can now be resized, colorized and configured from a new furniture control bar;
v3.5.19 - 20161207 - Disabled sharpen filter for mobile due to color and performance problems
v3.5.18 - 20161109

Tweaks to Download / Print / Share screen for mobile.
Fixed furniture controls tip z-index to not show above furniture menu

v3.5.17 - 20161020 + Furniture Selection now fully responsive
v3.5.16 - 20160908 = Forced furniture tools to bottom center on mobile; improved viewport settings for mobile.
v3.5.15 - 20160607

+ 'Community' variable for Multi-Family
+ Floors without options do not show in the option list
+ EasyIFP can now be embedded on SSL websites without error
= Furniture rotation/delete tools appear by mouse cursor

v3.5.14 - 20160502 - Added Matterport and YouTube Video Hotspots
v3.5.13 - 20160430 - Fixed Floorplan Options with 'top:1' from disabling hotspot layer
v3.5.13 - 20160424 - Fixed save after load; Forced rotation values to always be 0 - 359
v3.5.12 - 20160127 - Fixed column height issues due to $(document).height instead of $(window).height
v3.5.11 - 20160114

+ Mobile layout for Social Sharing Screen
+ Changed New Tab/Window Pop-ups to appear using fancyBox overlay
+ Furniture Options now shows the dimensions of the selected piece.
= Furniture Options Pop-Up now fixed to bottom left (easier)
= Fixed Floorplan Options Button showing up on plans w/o options (room planner only)
= Fixed Empty Tooltip appearing at top of left column area on load.
= Fixed footer from partially disappearing off page in Safari iOS

v3.5.10 - 20160112

+ Restyled Select Furniture Modal Window
= Fixed auto resize on load to work with both w/h depending on largest difference.

v3.5.9 - 20151105 - Added tooltips to options with text exceeding given area
v3.5.8 - 20151020 - Fixed problem with toggling options responding to both click/touchstart
v3.5.7 - 20151002 - Hotspots can now be disabled by option click: disableHotSpot: #
v3.5.6 - 20150921 - Mobile Fixes - Photo Hotspots now work, Overscroll disabled correctly
v3.5.5 - 20150903 - Load / Save modal windows replaced with SweetAlert dialogs
v3.5.4 - 20150831 - Added parameter - ?view=0 (First Floor), 1 (Second Floor), 2 (Both); fixed zoom to always zoom from center
v3.5.3 - 20150825 - Hotspots on Multiple Floor Plans
v3.5.2 - 20150820

+ Added Photo Hotspots
= Tweaked initial zoom to 0.85
= Kill before Add to resolve conflicts.

v3.5.1 - 20150819

'Add' logic will now skip if a compatible radio option is selected
Zoom controls now increment by 0.1 instead of exponential values

v3.5 - 20150726

Added Furniture Pop-Up with Rotate and Delete Controls
Removed Furniture Handles and Drag/Drop Trash Can
Furniture Planner available for all floorplan view modes.
Second floor shown below first floor now.
Legacy Versions
Easy Room Planner v2.0 was a responsive flash web application. Click Here for v2.3 Demo (Last Updated: 8/31/2011)
Easy Room Planner v1.5 was a fixed width web application with a busy interface. Click Here for Demo (Last Updated 03/19/2010)
Contact Us
We'd love to hear from you! Please contact us.